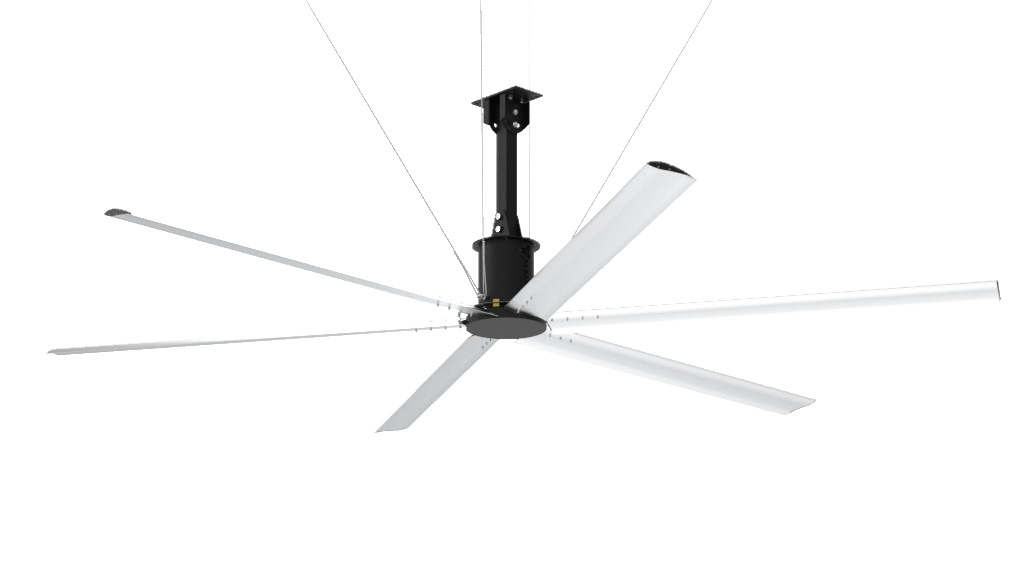 Aerodynamic Design & Fan Efficiency
As Turkey's leading ceiling fan manufacturer, Alsanfan offers superior comfort and impressive performance with its HVLS (High Volume, Low Speed) ceiling fans. While HVLS ceiling fans create a feeling of coolness and comfort by providing effective air circulation in large areas, they also offer a pioneering solution in terms of energy saving and sustainability.
Alsanfan HVLS ceiling fans offer a perfect solution for large industrial and commercial areas. These cutting-edge products are known for their unique blade designs and powerful engines. The main purpose of HVLS ceiling fans is to provide homogeneous air distribution by creating high volume and low velocity airflow. In this way, it becomes possible to cool and ventilate the entire space, regardless of any point you are at the focal point.
Technology & Usage Area
Alsanfan HVLS ceiling fans are also equipped with optional intelligent control systems. These systems allow you to control the speed, timing, and even reverse operation of the fans. Thanks to automatic sensors, it is also possible to adjust the working status of the fans according to the ambient temperature and humidity level. These smart features provide a user-friendly experience while maximizing energy savings.
Alsanfan HVLS ceiling fans have various application areas. Large areas such as industrial facilities, warehouses, gyms, shopping malls, airports and greenhouses are just a few of the potential uses of these fans. Alsanfan HVLS ceiling fans, which can be designed in accordance with the characteristics and needs of each project, add value to your working environments with an impressive performance.